Two operator branded devices land in the UK.
The Vodafone Smart II.
The first of the two devices is landing on Vodafone and is called the kinda sweet name of the Vodafone Smart II. With a name like that this has budget written across the top of its screen because the manufacturers branding has vanished.
But, this is a good little device nonetheless, it's rocking a 3.2-inch HVGA display, an 800Mhz processor, and a 3.2 megapixel camera. You won't be getting Ice Cream Sandwich on a budget though, this device is running Gingerbread.
On the plus side the device is available for £70!!! Which is insanely cheap for what you're getting here, even if you choose not to get this as your daily driver it could be a phone to take on that holiday so it doesn't matter too much if you misplace it!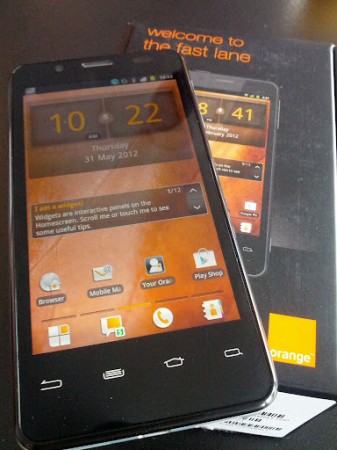 Orange San Diego.
Today we finally got a taste of the Intel powered Android device in the UK. What was previously known as the Orange Santa Clara has been released today as the Orange San Diego and it's available on the 6th June nationwide on contract and PAYG (PAYG is £200 plus topup).
It's been widely reported that first impressions were good with the device being really light and nice in the hand. The soft touch rubberised finish has a lot to do with that, although the experience is somewhat diminished by the highly customised Orange skin on top of Android 2.3.7.
One huge advancement with this phone is the boot time which is roughly twenty seconds to go from being powered off to the lock screen, just as a comparison the Galaxy Nexus takes rough;y seventy seconds!
Screen transitions are said to be buttery smooth on the single-core Intel Atom Z2460 processor clocked at 1.6Ghz which powers the 4.03" screen which has a decent 600×1024 pixel resolution. This all goes with 1GB RAM, 16GB onboard storage (but no microSD card), a microSIM card slot, a microUSB and microHDMI port. The camera modules shape up well too; there's an 8-megapixel camera with LED flash, AF, an 8x digital zoom, full HD video recording at the back, the ability to record 10 pictures in less than one second, A-GPS, a 1.3-megapixel front facing camera, two speakers, two microphone, HD Voice, ambient noise cancellation, NFC (and a 13.56MHz NFC Antenna), Bluetooth v2.1 and Wi-Fi.
This is a great mid-range device if you're on Orange and have a new renewal or just a spare £200 lying around!
Virgin have officially got their Olympics Wifi network up and running as of today. So from today you can browse the web from the platform (and only the platform, not the tunnels) using Virgins high speed Fibre network. Enjoy a summer of free internet commuters!
Cricket Wireless has confirmed it'll be carrying the iPhone 4S in the near future!
The Canadian Galaxy S3 is essentially the same outwardly as the international version but on the inside there's a Qualcomm processor, LTE speed, and 2GB of RAM. There will be options for either 16GB or 32GB of internal storage while two variations on those models will exist with either 4G LTE or HSPA+ 42 data connections so it'll be coming to your network of choice!
Ohhhh and by the way the Galaxy S3 has Corning's Gorilla Glass 2!