This is geek heaven.
Ok, so there's a couple of reasons why you'd buy the Nokia Lumia 900. Firstly, it might be because of it's gorgeous Amoled screen, maybe it's because of it's lovely industrial design or it might be because you like Windows Phone (unlikely, I joke).
But, this phone might just have got a tiny bit more attractive, especially if you L-O-V-E Batman. If you do then you can head over to Phones4U and pick up your limited edition of the phone, complete with Batman logo on the back and custom wallpapers and tiles tailored towards your bat fetishes. This is basically a repeat of what the company did with the Lumia 800 a while back, and there will also be a Dark Knight rising version too!
There's been no confirmation as to how many of the phone will be made but we expect there to be more than enough to go around! But, go out and grab it just incase!!!
The Galaxy S3 and the UK.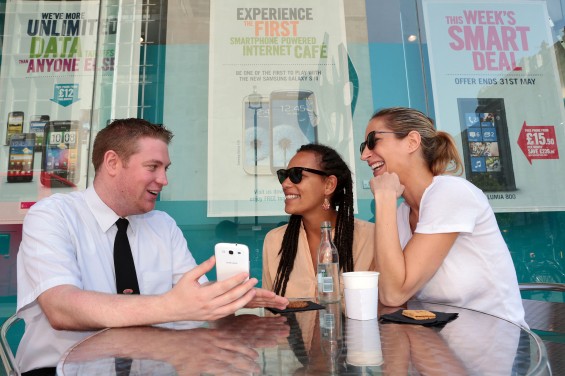 I'm not sure the best way to break this to you because the UK is a tad obsessed with Samsung and their Galaxy devices, but the device has been delayed across the whole set of countries. Clove was first out the block to let us know, telling customers g that "Samsung has confirmed a delay in the arrival of the first stock" with an exact date for availability "still to be confirmed." There's also a minor delay with the "Marble White" version if you chose that version instead.
Clove have specifically said the Marble White Galaxy S III is now expected in stock on June 1, instead of May 30 . The "first stock" of the blue is "expected to arrive week commencing 5th June, but this is still to be confirmed."
On a slightly more positive note, if you happen to be in London and more specifically on Oxford Street between Monday and Thursday, remember to get yourself to The Carphone Warehouse store there because they've got phones in "popup internet cafe" where the computers have instead been replaced by Galaxy SIII handsets.
The cafe itself will run for three days – Monday, Tuesday and Wednesday, with the handset going on up for you to buy on Thursday. If you pop down then there's also a chance for you to win a handset with a Galaxy SIII being given away daily.
Mobile displays: LG's wonder screen.
There's been huge advancements in display technology on mobile technology this past two years, but it looks like LG may have just unleashed their best technology to date.
Their new screen is 5" and manages to pack in full-HD resolution (that's 1920x1080!), this makes a pixel-density of 440 pixels per inch. Something which simply blows Apple's 'Retina display', with 329ppi, out of the water! LG claim that the naked eye will be unable to discern individual pixels, and the use of Advance High Performance IPS technology means you'll be getting realistic colour reproduction, wide viewing angles, as well as brighter images and low power consumption.
In other news:
Asus has teased a new set of Transformer tablets which are slated to be arriving at Computex 2012, which is in early June, it'll be interesting to see what they've got planned this time. Hit the advert below for the official teaser.
Nokia's Lumia 610, which has 256MB of RAM and a single-core 800Mhz processor has today found itself banned from more apps. The list now includes; Angry birds, Skype, PES 2012 and Tango, we're sure the list could go on. It's also worth noting other apps such as Nokia Maps and IMDB have been known to crash on the phone so it's hard to recommend it at the moment.
RIM is restructuring and is said to be shedding 2000 jobs.
Facebook is again rumoured to be having a stab at a Facebook phone and is reportedly hiring ex-Apple engineers to work on the device/s.