Ubuntu mobile OS: Do we need it, is it real and will it work?
This is another one of my posts from coolsmartphone.com
Ubuntu is one of the most well known Linux variants for desktop and laptop computers, but its creator, Canonical, has plans to extend its' reach a tad further with different versions of the OS. That is if a job listing on their website is to be believed. Have a quick read and see how you interpret it;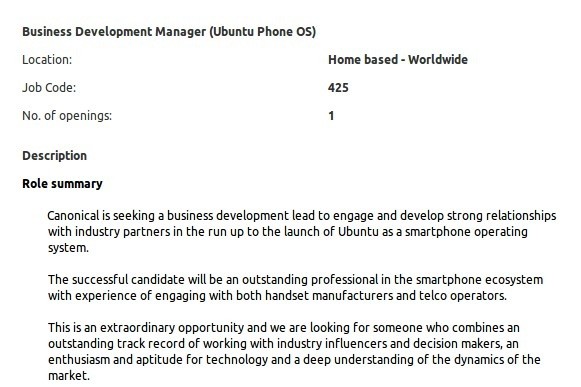 Up to this point we have seen Ubuntu for Android, which seems to be a slightly different entity, it installs alongside Android and offers a desktop experience when a phone is connected up to a big screen. But, the rumours suggests that a phone will be produced, with the help of one of the big manufacturers, and feature Ubuntu's currently unannounced smartphone OS. Now we have to take all of this with a pinch of salt because it might not end up happening at all or it could just be a badly worded reference to Ubuntu for Android, as opposed to a stand alone operating system, we just don't know.
But, I have personally been questioning whether or not Canonical would achieve anything if they did commit to this rumoured project. Can they really compete with iOS, Android and even Windows Phone 7? After all we have seen the downfall of HP/Palm and their beautiful WebOS, as well as the likes of Moblin/Maemo/Meego/Tizen and RIM, all of whom appear to be on a slippery slope.
Maybe Canonical aren't after world domination, instead they may want to take away the tinkerers and the coders who have become frustrated by Android OEM's trying to lock down their devices, but of course this is pure speculation, as always keep it locked to Coolsmartphone for all the latest news on this story! Don't forget to sound out in the comments if this is something which you would love to see become a reality!