Angry Birds: What's next?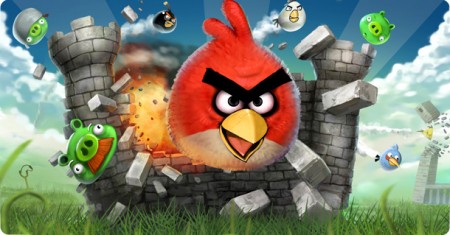 Angry Birds, possibly the best game ever released for mobile phones. It's made Rovio into a rather large company and there's been about as many spin offs as there has been christmas', but the company shows no sign of slowing down, planning to add even more parts to the Angry Birds brand.
They have announced plans today to take Angry Birds even further... than Space... as well as building on their loose association with the film Rio, the company plans to create a short series of cartoons staring your favourite fowl. The plan is to create 52 episodes, each about three minutes in length that'll come straight to your smartphone once a week. But, Rovio doesn't just want to target smartphones, they are reportedly working with other potential partners, probably in the television world, to bring the series to as large an audience as possible.
Rovio have said this is just the beginning of the plans... Proper Angry Birds film anyone?
This is one of my posts, that I've slightly adjusted just for you guys, from my post on CoolSmartphone.com!
Is this the Nexus tablet?
A couple of weeks back we were treated to the release of the iPad 3 new iPad and now that storm has blown over, the rumour mill has started up again but this time the focus is on the much rumoured and much anticipated Nexus tablet from Google.
I'm not in a position to say whether the render above is or isn't the actual tablet but that device above, does not really look like something Asus (the reported makers of the device) would design. It looks like a metal version of the HP Touchpad with an Android UI on the screen to me, so I'm happy to bet this isn't the final device. However, if it is I will happily eat my words.
Obviously there hasn't been any word on specs or anything yet, but as we hear, you guys will be the first to know!
In other news:
The trio of phones Sony announced at MWC were the Xperia P, S and U and until today, there was no word of a US release for them, they will be available, BUT only from smaller and regional retailers, none of the big boys unfortunately.

Sony, Toshiba and Hitachi's joint display venture has fired up and the company is now ready to start planning and executing...... Executing their plans, I noticed it was a bit awkward to leave the sentence where it was.

Motorola are now officially being investigated by the EU for mistrust issues with their interesting use of their patents recently.

But, Motorola did manage to convince Microsoft to abandon their German hub of European operations!

ICS aka Android 4.0 is now officially one 2.9% of Android devices... WOW!

The Samsung Galaxy Tab2 is delayed until the end of April.

The app Instagram is now available for Android! For a direct link click here.

Is the phone in the centre of the image below Sprints version of the HTC One X? All will be revealed tomorrow at Sprint's press event!