Nokia continues their verbal war. Says their offering is 'a step above'.
Today Nokia's CEO, Stephen Elop, has refuted claims that HTC has eked out an advantage in the Windows Phone market by securing the deal with Microsoft for the 'signature Windows Phone' brand on their new handsets.
The Exec told Wired, "We could have called our devices Windows Phone 920 or whatever, but we felt it was important to say that we stand for something a step above." The features which make the company's Lumia device, that step above are the Pureview camera, Nokia Maps and their wireless charging system. Obviously Nokia try to add a lot more value to their devices than other Windows Phone manufacturers typically do, especially with app exclusives!
Elop even said that the prospect of a Surface phone doesn't threaten him either! He says this with such conviction because the time it takes to work on new compelling features is far more time than a typical product design time. He said his company's work on PureView camera tech was "five or six years of work in our labs, engineers doing nothing else but working on that technology. Saying, 'oh, this year, we're going to do our own phone,' doesn't allow you to do that. You have to make those investments over a period of time."

There was brief mention of tablets, but we've been told not to expect one for a while because smartphones are the company's priority at the moment.

On a side note, Nokia and AT&T announced today that the Lumia 920 is to be an AT&T exclusive in the USA, people on Twitter have been giving the company a lot of flack for the decision too! Irrespective of all of this the next generation of Windows Phones is shaping up to be quite disruptive not least because HTC's opted for extremely competitive pricing!

Ohh and the video above is a helpful comparison of all of the upcoming Windows Phone 8 devices!
Tech companies on the rise in the 'Best global brands' chart.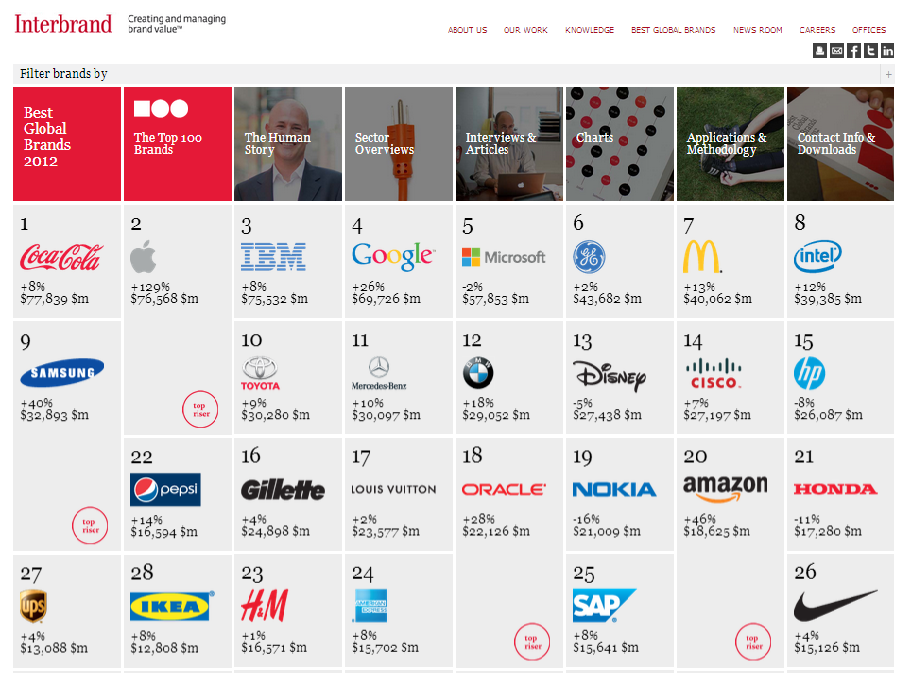 Interbrand has released 2012's version of the 'Best global brands', a chart which reflects company's 'brand value' and there has been a large boom in the growth of tech companies brands!
Coca-Cola again tops the chart, closely followed by a new number 2, Apple. Cupertino's finest have an exceedingly strong brand image now and they beat out IBM, Google and Microsoft, who finished 3rd, 4th and 5th respectively.
In case you needed any confirmation of how important brand image is Samsung's popularity this year has seen them bump up to 9th with a 40% growth in their brand value. Nokia on the hand are on the decline, something which is reflected in their brand value. They are down 16% this year and 19th in the world's brand value table.
In other news:
Samsung has posted, on their US support site, that the updates for all version of their Galaxy S3 are 'coming soon' the updates are probably just going through carrier testing!
As mentioned earlier, both of Nokia's new Lumia's, the 920 and 820, will be exclusives to AT&T in the USA.
Google has announced the cost of restructuring Motorola. So far the bill has been $340million for Q3 2012. This is only the start with the company planning more cuts at Motorola in the near future, particularly outside of the USA.
Facebook has hit 1 billion active users today!
Fifa 13 has sold a stunning 4.5 million copies in five days, there's something to compare to Black Ops 2!
Tom Tom has announced an official app for Android. Annoyingly there's the issue that it'll only work with phones with a screen resolution of 800x480, apparently they're working on adding support for 720p screens. As they should when the app costs £30!!!
The Windows Phone 8 launch event has been scheduled for October 29th!
And finally, a new job posting at Apple suggests the company is planning on launching an all-new system-on-a-chip. The posting asks for someone good at "SoC Modeling Architect - Manager/Lead." Does that take your fancy?