Rumours of a $99 Nexus resurface as Acer's Iconia B1 leaks as a pre-release challenger!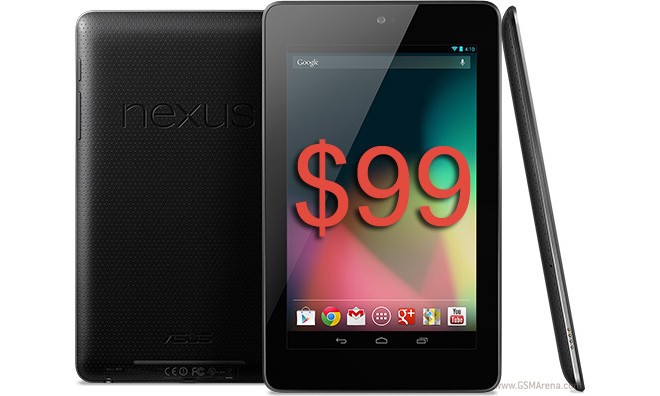 First things first rumours of a $99 Nexus 7 are nothing new, we hear about them every few weeks, but could it really happen? We have to turn our sites to the infamous website Digitimes for the latest round of rumours. The thing with Digitimes is that they post so many rumours that every now and then one of them comes to bare and so they do get it right some of the time.

This time they think that Google and Asus will be able to work together to deliver a $99 (£60) Google Nexus 7 tablet. If the rumours are right this time it'll be out sometime in the spring of next year. DigiTimes' sources believe the tablet could cost as little as $99, however their sources expect that a price of around $129-149 (£79-91) is considerably more likely.
At this point we have no idea of the potential potency of a device with this sort of price tag. It would have to be in the same league as the current Nexus 7 with it's quad-core processor and solid IPS display makng the tablet so popular because of the power that came at such an affordable price point. The Nexus 7's horsepower has proved hard to match, even for Amazon, with their Kindle Fire line which is also 'sold at cost'.
One thing which seemingly adds some smoke to this fire is that Acer has had it's Iconia B1 leaked today. You may recall that Acer release the Iconia A110 as a similarly priced competitor to Google's Nexus 7, it added the SD Card many people craved, but at the cost of a good screen and a couple of other features.
This makes news of the Iconia B1, pictured right, is all the more interesting because this is a decidedly budget device. There's a 1.2Ghz dual-core Mediatek SOC, 512MB of RAM, 8GB of storage, GPS, Bluetooth 4.0, and a microSD card slot! The software version is Android 4.1.2 and this tablet will have to come in at less than the Iconia A110. One thing to say about the tablet is that blue streak around the side does give it an air of quality in the press photos, but the reality might be slightly different when you get hold of a device in person. Unless Acer is really engaging in a race to the bottom with Google, it would seem silly to offer a device at a lower price point than the A110.
Either way if Google could squeeze out a £99 or $99 tablet would you buy it just to see what it was like anyway? And do Acer need to offer their B1 tablet in the first place or is the A110 good enough for the budget range already? Either way if you decide you don't like either of these rumoured tablets you can always give them to the kids!
Digitimes
Via
TheGadgetShow
and
PhoneArena
.
Samsung has started pushing the Android 4.1.2 Jelly Bean 'Premium Suite' update to Galaxy S3's throughout Europe and South America. At the moment the update is known to be live in the UK, Germany, Switzerland, Russia, Colombia, Romania, and there is likely a few more locations on the list. At the moment we're stuck with the 'you're in a queue' message from Samsung, let us know if you've got the update already!
Via AndroidPolice.
Archos have published their excellent video player app on the Play Store today and it can be all yours for £3.99 or $5 depending on where you live! All reports so far have been positive but it's up to you whether you want that extra codec support and quality video experience a renounced media company like Archos can offer you! You can check the app our here!

Via ArchosTwitter (Tweet embedded below).

Today we published the critically acclaimed ARCHOS Video player application on Google Play for a wide number of... fb.me/1qmrQKRBA
— Archos News (@ARCHOSNews) December 20, 2012

Amazon's Android app now has the ability to give you push notifications when the details for your package update whether that be shipping or delivery status. You can also get notifications for lightning deals on Amazon. To set this up you need to head to the apps settings by going to Menu-> More -> Notifications and you need to be running Android 2.2 or higher to get the notifications! You can get the update here or by heading to the Play Store on your device!
Via AndroidCommunity.
Flipboard for Android has been updated to add tablet support!
Via AndroidPolice.
Lenovo's elusive ThinkPad 2 tablet has arrived at long last! The device is available in three price variants, as promised, with a starting price of $649 for the 64GB WiFi version. An extra $30 will add pen input and a digitizer screen for you note-takers and students out there and if you're prepared to offer up $729 you can have Windows 8 Pro on the device. Unfortunately you won't be able to get one of these for Christmas unless you order now and have the patience to get through until the January 7th without your gift!
Lenovo via Engadget.
The popular mobile messaging service WhatsApp is currently available for free to iPhone users, instead of it's normal $0.99 retail price. We expect this is because there are a lot of you out there opening up your new iPhone's this Christmas and WhatsApp would rather you used their service instead of iMessage or Samsung's ChatOn! We're not sure this offer will last for ever so it's worth a download now even if you don't intend to use it every day!
TheAppStore Via TheNextWeb.
The list of bidders for the UK's 4G spectrum auction at the start of next year has been announced. The list includes the normal candidates; EE, Hutchison Whampoa (the network Three to you and me), Telefonica (O2) and Vodafone, as well as BT, MLL Telecom (a telecom network supplier) and PCCW (who are a major Hong Kong telecoms conglomerate). We'll have to see how the auction goes and if we learn any more about MLL and PCCW we'll let you know what their interests in the spectrum are.
Via BBC.
A Nexus 7 Pogo dock is available for pre-order for B&H today! The dock will set you back $39.99 and there is a tentative delivery date of December 30th! We're not convinced it'll make it to you by then but it seems like the dock is finally getting nearer to a reality!
B&H via AndroidPolice.
And finally, Samsung has said that they will be exhibiting their 5.5" flexible display at CES in January next year! This screen is exactly the same as the amoled offering in the firms Galaxy Note 2, with the same 720p resolutiom, except this one is flexible! This means we could be seeing this display in smartphones very soon, something which will hopefully add to durability and the screens resistance to accidental drops and bumps! Hopefully a 1080p version isn't too far behind!