Nokia's design chief sits down for an interview!
Recently Mobile Geeks were given the privilege of sitting down with Nokia's Head of Design, Marko Ahtisaari, to talk about Nokia's latest set of Windows Phone and the company's special relationship with Microsoft.
There were quite a few highlights in the video, but he specifically said that the thing which would make him most proud would be if a consumer were to leave feedback on a Lumia Windows Phone and say that is just "fits into my life". That's what Nokia wants and perhaps they can genuinely make a product which does that.
Again, Nokia reiterated their desire to develop their differentiating apps and designs. That means bright colours and unique apps are here to stay! Ahtisaari also explained that the Finns now have a much tighter, smaller and more efficient team who work together on hardware, software, design to make a coherent and perfectly fluent package for consumers! This is the sort of thing we want to hear but whether this translates into reality we'll have to wait and see, we definitely like where Nokia is heading at the moment, it's just a shame they don't have a unique operating system to carry and develop with them!
There's lots of interesting information in the video below, so set aside a few minutes and give this one a little look!
Via
WP Central.
Apple gets another slap on the wrist from UK court; this time because their statement wasn't quite what the court wanted!
Earlier in the week we covered Apple's statement about Samsung not copying their iPad, which UK courts ordered to put on the UK Apple website. We were as stunned as most people by how the announcement resembled more of a grumbling than an apology! It seems the court has taken our line with regard to the statement too!
Apple has been given 48 hours to post a new statement, despite Apple claiming it'd take 14 days or more to create a suitable new statement. One of the judges went on record and said he "cannot believe" that the notice was as "untrue" and "incorrect" as Apple had created!
"Apple must now within 48 hours publish a correction on their homepage with a link to the corrected statement in not less than 11-point font" Darren Smyth, EIP Partners
Apple's team claimed that the company had acted in the spirit of the ruling, and pointed out that it was "not designed to punish" and "not designed to make us grovel." Michael Beloff instead insisted, "the only purpose is to dispel commercial uncertainty." Obviously this didn't convince the judges because Judge Robin Jacob said "I'm at a loss that a company such as Apple would do this... That is a plain breach of the order."
We'll give you all the latest when Apple post up their new version of their 'apology', ohhh and this time it has to be in a more prominent location on their website too, instead of in a tiny little link and the bottom of the page. You can see how it currently looks in the picture below!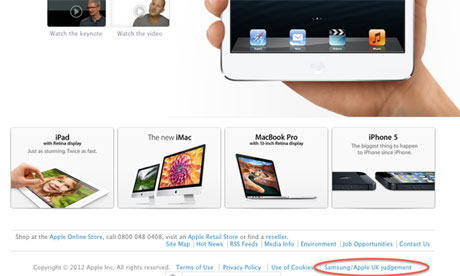 In other news:
Earlier in the week TechCrunch speculated that Nokia would throw a spanner in Google's work and slap Google with a lawsuit for their multi-user implementation on Android tablets. But, today Nokia has gone on record and told CNET that the company doesn't quite own a patent for multi-user accounts, "though we did indeed file the patent application which has been cited in some of the coverage, we determined some time after filing that we would not pursue the application further," a Nokia representative said.




It's quite interesting how misreported this was, even by us! One thing Nokia did add was that Google hasn't contacted them to license any of Nokia's patents, we're not sure quite what they were alluding to there though!




AT&T has lauched a new service called 'AT&T Locker' which will offer 5GB of online storage for all your photo, music or whatever else you store online, needs! It's another option to add to Dropbox, Box, Google Drive and iCloud!
Apple has today started rolling out an update to iOS 6.0.1! The update is 69.9MB's in size and it'll bring all of these new features which are in the picture below!
Google has introduced direct sharing and embedding from Google Drive to Google+, on the same day that Amazon has launched a new Amazon Cloud Drive Photos app for Android!
Google has also updated the Chrome for Android app to work with the new Nexus 4 and Nexus 10!
OUYA have announced they will update the version of Android on their upcoming games console! It'll now be rocking Jelly Bean from launch instead of ICS!
Talking of updates Huawei's G300, which is most famed for being the highlight of Vodafone's budget line-up, has finally been updated to ICS!
RIM's upcoming BB10 is reportedly being tested by over 50 carriers!
And finally, Archos have announced a new 8" tablet called the 80 Cobalt sounds. For an eight inch tablet it's got a decent set of specs; there's a 1024×768 resolution display, a 1.6GHz dual-core processor, 8GB of storage, and1GB of memory. It runs a relatively stock version of Android 4.0 and the cameras are 2MP and 0.3MP! If we hear any details on pricing or availability we'll let you know!