iPhone 5 'teething problems'?
The latest iPhone has again been greeted with huge queues in London and Tokyo today, as well as having over 2 million people pre-order and have the device shipped to their homes today, but is all as rosey as it seems? Now the title might be slightly misleading here, but those of you who have got an iPhone 5 and or iOS6 on your device will have noticed a couple of issues.
The first of which will impact anyone with a device that will be running iOS6! You may have noticed that since the update you've lost Google Maps and it's been replace with Apple's own solution, aptly named, iOS Maps. Now, we know this is a new solution, but some of the things we've been hearing throughout the day have been nothing short of ridiculous. Lets start with Stratford-Upon-Avon, the town where Shakespeare was born, well that's not even in the maps at the moment.
To the right you can see for yourself how Apple's Maps see Colchester, in Essex.
But, there's an almost endless list of bloopers; for example Luton is apparently soon to become a popular tourist destination, having been relocated to the coast!
Someone on the London Underground is obviously a tech fan and put this little announcement up at Hackney Wick station. (Right).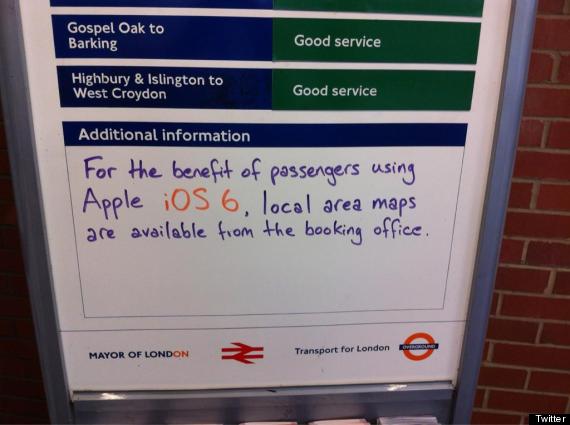 Apple, in recent times have also been huge proponents of uniqueness and creating your own designs. But, it seems they are dismissing their own advise today after iOS6 featured one of the world's most famous clock faces, which appears to have been lifted almost straight from Switzerland. The clock itself is so important because it was originally designed by Hans Hilfiker and is described as an icon for the Swiss railway and Switzerland. The clock design is trademarked and copyrighted so Apple may well find themselves in some hot water for this slightly hippocritical blunder. The two designs are just below, in a nice side by side comparison and to quote Apple it does seem like this is a 'slavish copy' of the frequently licensed design?
The final issue only affects the iPhone 5 and it's not so much of an issue as a feature. Basically your new 8mp camera can only take 4mp stills in low-light conditions. The reason for this is because Apple has boosted low light performance, they've had to implement 'quad-pixel oversampling' to make the pictures clearer and just better. So it's a fair trade and many of you will be a lot happier with the new pictures than the old ones.
ZTE announce the Blade III!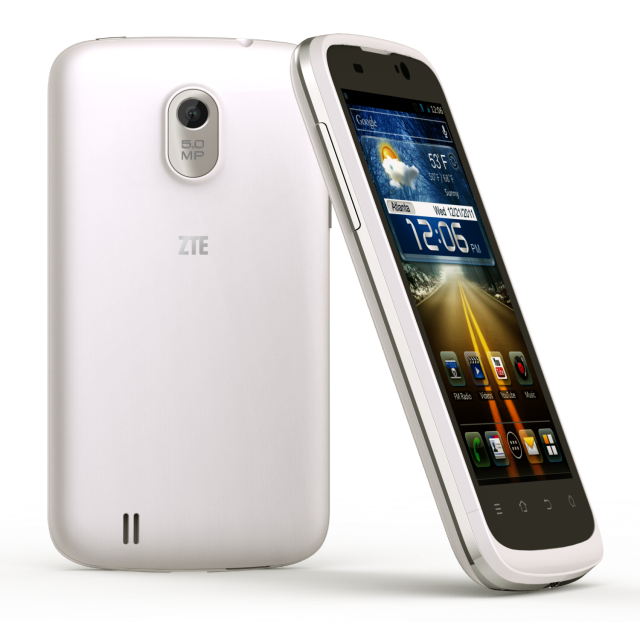 Today ZTE have released details of another successor in their budget line of Blade smartphones. This time around everything gets slightly updated, but there's nothing mind blowing! We'll have to wait and see what price this phone comes in at before we jump to any conclusions though!
The full specs include:
4 inch WVGA (800×480) 262K TFT Capacitive Touch Screen
Weight: 130 gram
Size: 123 mm x 63.5 mm x 10mm
1GHz Qualcomm MSM 7227 A processor
Android 4.0
Memory: ROM 4 GB, ca 2.5GB accessible to the user, RAM 512 MB
Supports Micro SD memory card up to 32 GB
5.0 MP AF camera
HD-ljud, Dual Mic
Mobile standards: HSDPA (7.2Mbps) /UMTS/ GSM/GPRS/EDGE
Audio standards: MP3, AAC, AAC+, midi, wav, AMR-NB
Dolby, DLNA
Video standards: MPEG4, H.263, H.264
Wireless communications standards: Bluetooth™ 2.1, A2DP, GPS, WiFi 802.11 b/g/n
Battery capacity: Li-ion1600 mAh
FOTA (Firmware Over-the-Air) – funktion som används för att på ett smidigt sätt uppgradera smartphones
FM radio
Jelly Bean has arrived for Verizon's version of the Samsung Galaxy Nexus!!!
Both Samsung and HTC have confirmed that their flagships, the Galaxy S3 and the One X respectively, will be getting Jelly Bean updates in October!
Nokia, has been rather scathing of Apple's new Maps today. It's not surprising given that Nokia has a very capable mapping platform which they've built up themselves!
The US Senate today accused Microsoft of skipping out about $6.5billion worth of taxes. We'll let you know how this story progresses!