So you're in the market for a new phone, sim-free, unlocked and no long expensive contract, well you've come to the right place.

Below is a list of the best devices you can spend your hard earned cash on at the moment!


Motorola Madness at Expansys.
Got your eye on anything made by Motorola at the moment? Well Expansys have a few deals you may be interested in!
All The Razr, Xoom 2 Media edition and the Xoom 2 10.1" are available for £250, £200 and £250 respectively. So head over
to their site
to take advantage of all the deals!
This deal won't last long at all! Just yesterday Asda were offering up the HTC Sensation XE for a measly £247, but today they've outdone themselves by offering the LG Prada, complete with ICS for £230!!!
This phone is well worth a look it's got great specs and the fashion conscious will love it too! Remember it won't last long these are basically firesales from Asda!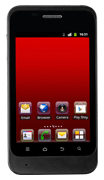 The ZTE Kis is a budget smartphone but for £59.99 and a years allowance of 1GB of internet per month thrown in as a free, the phone just got a lot more appealing. The device is slightly outdated as you would expect; a single-core 800mhz processor powers Android 2.3 Gingerbread. But, for such a bargain price it's almost impossible to complain!
The phone is available from all Virgin outlets at the moment, or you can get it online from their webstore by
clicking just here.